Monday 5th January...
Saturday ~ GMT - 9pm , PMT -1pm, EST -4pm
Sunday AEST - 7am
Thursday ~ GMT - 7pm , PMT - 11am, EST - 2pm, Friday AEST - 5am
Wednesday ~ GMT - 1pm, PMT - 5am, EST - 8am, AEST - 11pm
Please Let me know when daylight savings finishes in your area.
the link to my website is below in my signature
Click on "Online Circle" scroll down to the big white box,, put in your prefered user name.
and enter, that i all you need to do..
Please test it out before the circles start , as your calls for help on the day may go left unheard..
DB

_________________
Have I not here the best cards for the game William Shakespeare :King John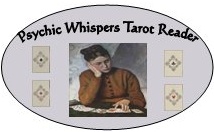 Please Private Message me if you would like a free online reading, Your Reading will be posted in the Forum.
Requesting a free reading in the forum, the results will be posted in the forum, You must be a member and have at least 20 Posts