Zara I am sorry i got to this post too late for you...
I have updated all the links to the circles...
Just click on the link in the front home page of this forum and it will take you directly to the circles from here on in...
I am in the middle of reconstruction of my forum due to my e:drive crashing and losing all data..
so everytime i re-upload i have to refresh all the links to the circles.. i didnt relaise this was the case Bugger!! So from here on in.. if you cant get in .. Just come in here and click on the link on the front page OK!! I will have it always up to date..
I hope you can make wednesdays circle..
have a great weekend
Dancing Bear
xx

_________________
Have I not here the best cards for the game William Shakespeare :King John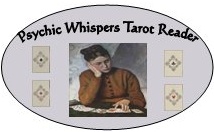 Please Private Message me if you would like a free online reading, Your Reading will be posted in the Forum.
Requesting a free reading in the forum, the results will be posted in the forum, You must be a member and have at least 20 Posts