Hi all
I thought i would give this forum a change...
If you liked the other one let me know.. we can alternate..
Hope you like it for a change.. It is a bit easier with the light background for my eyes..

Hopeyou all are having a great weekend..
oh and BTW the links to the circles have all been updated..
Take Care
Dancing Bear xx
_________________
Have I not here the best cards for the game William Shakespeare :King John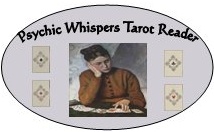 Please Private Message me if you would like a free online reading, Your Reading will be posted in the Forum.
Requesting a free reading in the forum, the results will be posted in the forum, You must be a member and have at least 20 Posts