If you dont get the email with the Circle picture in it.. They will always be posted up in here also.. as sometimes they are too large to be put in AT.. so i have decided that i will post them up in here from here on in.. that way i dont have to reduce them and lose some of the orbs and affect of the photos...

*********************************

For Fridays circle I have two famous places. for us to devle into..
If you dare !! *wicked witchy laugh inserted here* LOL!


I will send out Pictures of places and actually where they are.. I have done some research.. even though Lark is better at it than me LOL!! she always finds out more somehow

But the research i have done gives me the ghosts that haunt particular areas of these places. and have explored and tried to get those images of the areas..

So i hope you are up to it all..get your grounding boots on..and reality check hats on.. and lets get stuck into these awesome places..
I would love to visit them in person actually. but probably never will, they are in the States Only clue i am giving you LOL!!

Until tomorrow , when i send the emails.. Hope you are all having a wonderful week.

We had full house last night , chat room only allows 10 .. so be there early to secure your spot..

Times are posted up on Home page of Psychic Whispers.
and link to chat room is plastered underneath the times.

Not many places to go or get lost in there at the moment it is still under reconstruction..
_________________
Have I not here the best cards for the game William Shakespeare :King John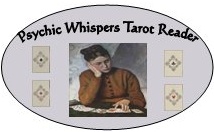 Please Private Message me if you would like a free online reading, Your Reading will be posted in the Forum.
Requesting a free reading in the forum, the results will be posted in the forum, You must be a member and have at least 20 Posts