This is a multiple choice poll

so please click on times that you are available.
This Circle will be revolved around West Coast times

so many of you i know who would love to attend the cirlces Now Can

this poll gives me a basis to work on and a head count..


Hopefully this will be up and running in 2 weeks..
depends on response.
_________________
Have I not here the best cards for the game William Shakespeare :King John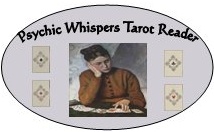 Please Private Message me if you would like a free online reading, Your Reading will be posted in the Forum.
Requesting a free reading in the forum, the results will be posted in the forum, You must be a member and have at least 20 Posts