Thanks Rockergurl
Thanks for the birthday wishes..

Had a real quiet one.
And panicking I have 3 assessments to do in 2 weeks..and perform a wedding in the middle somewhere..

So i guess my mind wasnt oen celebrating much..
Me and the girls (daughters) spent time togeher last night, watching City slickers again!! It is such a funny movie.
We all loved it.. and they decided to jump on me afterwards

You take care and hope all is well in your neck of the woods.

_________________
Have I not here the best cards for the game William Shakespeare :King John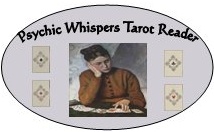 Please Private Message me if you would like a free online reading, Your Reading will be posted in the Forum.
Requesting a free reading in the forum, the results will be posted in the forum, You must be a member and have at least 20 Posts