Magnolia Planatation was established in 1830, by a Ambroise Lacomt and his wife Julia Buard.
Magnolia Planatation slowly became a cotton farm , in turn becoming one of the largest slavery holdings in the Natchitotes parish.
The planatation boasted eight duplex style huts , each hut initially housed 2 families.. later updated and had electricity put in,. and housed one family per hut.
It had its on Blacksmith, Hospital and general store.
Hundreds of slaves toiled and died here at Magnolia planatation. there was one particular slave who was the healer of the community and was said to live til she was 120 years of age..
Images are in the public domain taken from wikipedia.
Duplex style hut!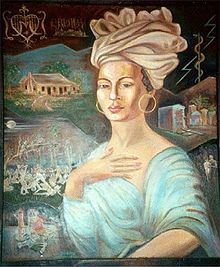 The Queen of Voodoo.. Marie Lavaeu
The dwelling "Main House"of Ambroise and his wife Julia. a descendant still lives in this main house which is separae from the plantation dwellings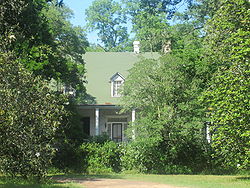 Main House
Hospital
Much HooDoo and Voodoo was practiced here. with many Black X's Graffitied by the slaves upon the walls and doors of the dwellings.
The Cross mark or "wavy snake Lines is meant to hurt an enemy. it can be marked upon a wall, or floor, laid out in stone or sprinkled with Crossing powder. This mark is found in varius places in the plantations slave quarters.
There are many many rituals and spells within the Voodoo religion below are jsut a few.
But it is HOODOO that is the more ritual spells based beliefs.. without the Voodoo religion which does have Catholic overtures. the Queen of Voodoo " Marie Laveau" was a devout Catholic and incorporated within her spells Psalms from the bible.
One in particular was to conjur up "Legba" Legba is the gatekeeper to the spirit world his wife is represented by a serpent , who is the central symbol of new orleans Voodoo called Li Grand Zombi
here in this chant to conjur Legba and St peter they use it to open the gates to heaven and the spirit world..St Peter representing heaven..
St. Peter, St Peter, open the door,
I'm callin' you, come to me!
St. Peter, St Peter, open the door,
Papa Legba, open the gate for me, Ago-e
Ativon Legba, open the gate for me;
The gate for me, papa, so that I may enter the temple
On my way back, I shall thank you for this favor
here are just a few more spells taken from wikipedia for the practice of Voodoo..
If you lay a broom across the doorway at night, a witch can't come in and hurt you.
Having a woman visit you the first thing on Monday mornings is bad luck for the rest of the week.
Don't borrow or lend salt because that is bad luck.
If you sweep trash out of the house after dark you will sweep away your luck.
Don't shake a tablecloth outside after dark or someone in your family will die.
To stop a Voodoo spell being placed upon you, acquire some bristles from a pig cooked at a Voodoo ritual, tie the bristles into a bundle and carry them on you at all times.
If a woman sprinkles some salt from her house to yours, it will give you bad luck until you clean the salt away and put pepper over your door sill.
If a woman wants her husband to stay away from other woman, she can do so by putting a little of her blood in his coffee, and he will never quit her.
If a woman's husband dies and you don't want her to marry again, cut all of her husband's shoes all in little pieces, just as soon as he is dead, and she will never marry again.
You can give someone a headache by taking and turning their picture upside down.
You can harm a person in whatever way you want to by getting a lock of his hair and burning some and throwing the rest away.
You can make a farmer's well go dry by putting some soda in the well for one week, each day; then drawing a bucket of water out and throwing it in the river to make the well go dry.
Here is further reading on Voodoo..
http://www.caribeinsider.com/showreligion.do?code=009
http://en.wikipedia.org/wiki/Louisiana_Voodoo
HooDoo
These are the best websittes for HooDoo magic spells I have ever come accross
http://www.arcane-archive.org/occultism/magic/folk/hoodoo/
http://www.arcane-archive.org/occultism/magic/folk/hoodoo/witchcraft-hoodoo-voodoo-1.php
http://en.wikipedia.org/wiki/Hoodoo_(folk_magic)
according to Ghost Adventures this place is most certainly haunted .. lights going on and off on there own accrod, physical touching is felt, many many disembodied voices have been recorded even chanting can be heard.