Welcome to the Forum Ella

Hope you enjoy it here,
we are a friendly bunch.
Are you interested in developing or just to keep your finger on the pulse with anything psychic or medium?
as you already know we have circles once a week at the moment
majority of us have been attending for years.. we have some newbies too..
It is informal as we all like to have a chat as well

I hope to catch up with you in the forums..
we have much happening in here. With New things added all the time.. as we are a very young forum so please bare with us as we develop and grow.. Please also feel free to contribute, all the help we can get is much appreciated.
I just love anything paranormal, Anything to do with Divination
and at the moment on a frustrating hunt for a night vision hand held camera..LOL!!
as you can see i can be a miss hava chat.

Again Massive Welcome..
Make yourself at home, and post away..
Love and light
Dancing Bear

_________________
Have I not here the best cards for the game William Shakespeare :King John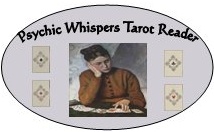 Please Private Message me if you would like a free online reading, Your Reading will be posted in the Forum.
Requesting a free reading in the forum, the results will be posted in the forum, You must be a member and have at least 20 Posts