Sorry for my absence I havent been well again.
these reaccuring things that happen due to an accident over a years still hinder me at times.
So i am hoping i am back again!!
I finally crawled out of bed lets put it that way..
Lets hope i can stay out of bed.

I am off to go see what you all have been up to !!


_________________
Have I not here the best cards for the game William Shakespeare :King John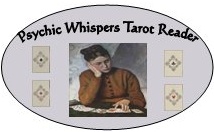 Please Private Message me if you would like a free online reading, Your Reading will be posted in the Forum.
Requesting a free reading in the forum, the results will be posted in the forum, You must be a member and have at least 20 Posts