Interesting investigations RG.
Very unusual to get engine noises at the bottom of the sea, especially when all boats engines were off..
dark shadows as they say could be large fish or sharks..
But the Noise of those engines in more thsn one ship wreck is really unusual huh!!
Never really thought of spirit haunting underwater before..
But i guess they would be still attached to their boats..
it would have been emotionally charged time for them before they were bombed and died.
Some spirit would most definately still be with their ships..
Cool Stuff RG.. Really enjoyed those videos..
the Japanese river Monster the Kappa.. I really didnt expect them to get much.. i think they didint either

Nice to have our mythical creature beliefs though huh!!>
_________________
Have I not here the best cards for the game William Shakespeare :King John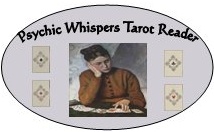 Please Private Message me if you would like a free online reading, Your Reading will be posted in the Forum.
Requesting a free reading in the forum, the results will be posted in the forum, You must be a member and have at least 20 Posts