I love all Birds..
Crow is part of my totem.
My daughter has Owl. She painted an owl when she was little and still has it hanging in her room
How lucky you are to have crow live near you RG..
Where i live Crow hasnt really established himself yet..
I have 5 crows i noticed in the dry season, It is now an early wet season so Crow has now disappeared.

I love the Caw of Crow it stops me in my tracks and i just listen and absorb
I think his caw is so magical. its as if i am absorbing the magic in each caw.
MY Mum who lives way further south than me has Crow come in her garden and she feeds him and his clan every day.. they get fed well. LOL!!
They even like a dog and bury things in her plant pots, to save for later. LOL!
Just so none of the otehr birds gets it i think LOL!
_________________
Have I not here the best cards for the game William Shakespeare :King John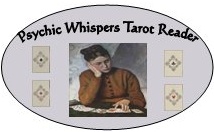 Please Private Message me if you would like a free online reading, Your Reading will be posted in the Forum.
Requesting a free reading in the forum, the results will be posted in the forum, You must be a member and have at least 20 Posts