Hey all sorry i had to go and rescue the gazebo before it fell down in the winds..
But i was linked to Pauline for GumDrops.. and I would like to try tuning into Pauline again for her.. as Pauline ahd a lot to say and I had to go..
next week i am going to keep Emily's name up as I would like to tune into her myself..
Ming hope the winds and snow are not too bad in your area.. you got cut off in the circle.. hope it wasnt electricity cut.
We here are battening down for the cyclone to hit harder monday morning, its not going to be head on here.. nor is it an massive one.. But big enough to cause a bit of damage and low flying objects..
It is so wet , windy and chilly here.. the wet bit is the bit i dont like.
we flood..

look forwards to seeing you all again next week
and yaking through the week
DB xx

_________________
Have I not here the best cards for the game William Shakespeare :King John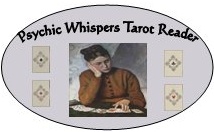 Please Private Message me if you would like a free online reading, Your Reading will be posted in the Forum.
Requesting a free reading in the forum, the results will be posted in the forum, You must be a member and have at least 20 Posts