I came accross an article the other day, claiming that psychics are becoming the new psycologists.
Psychics Help people see a different more positive perspective, they empower the person to make their own decisions, so they are not reliant on them. Eventually resulting in a person who is completley responsible and aware of their own life and actions. Something Psycologists also strive to do..
It is a 2008 article.. sorry I am slow LOL!!
Heres the article.
http://www.npr.org/templates/story/story.php?storyId=91166053
_________________
Have I not here the best cards for the game William Shakespeare :King John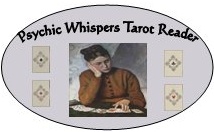 Please Private Message me if you would like a free online reading, Your Reading will be posted in the Forum.
Requesting a free reading in the forum, the results will be posted in the forum, You must be a member and have at least 20 Posts