can they prove we are not?? should be the question.

I dont really know where or how it all comes in, Its probably that part of the brain that we dont use.. Maybe psychics and mediums have part of that bit working to greater and lesser degrees, It does tend to run in familys, so you could be safe to say, it is in our genetic DNA makeup.
Its not really something taught, as such, Because if it is part of who you are and your makeup, you would always have it, maybe not realise it until certain ages etc.. Many Mediums see spirit all their life, but are unaware that it is a not a normal thing to do. Until the pressures of society kick in, to fit in to the norm. Many conform a few dont.
Those that conform tend to seek to open up later on in life when they come into their own. that is where i think it can be taught again.

If scientists maybe looked at the DNA sequences and a thing they called copy number variations CNV.
Much has been brought to scientists attention through the study of twins, Maybe they could apply similar tests between family members with the gift of foresight to those family memebrs who dont have it.. especially when a few members of the family are psychic.

I dont know about everyone else but in my family , it has come down through the gene pool.
On both sides of greatgrandparents at least one person in both sides that i know of, where reeferred to as the queer ones. These days that means homosexual, Back then Queer was someone who saw things that no-one else saw.
Them days also you had families who discouraged it as did mine, As it wasnt proper to be different to the masses.
Especially on a biblical sense too..My gran was always told to stop fantasising and she would be burned if she let it out to anyone that she can see the dead.
I know for a fact My greatgrandfather mums side has it (he kept it hush hush) especially being male, it would not have down too well. then he passed it on to his daughter ( My gran), MY mum nor her brother had it, but my mum passed it onto me. I have passed it on to all my 3 children. Strongly in one.

I know Celticnoodles family it runs rife.

So maybe science could if they found the CNV that matched in all psychics in families.
I hope this Daryl Bem does prove that it exists. and goes that step further than just experiements
That way we who do have it, are no longer persecuted and told its the devils work,
We will have the come back to say nope its in our DNA.


_________________
Have I not here the best cards for the game William Shakespeare :King John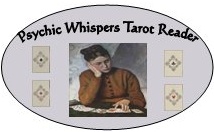 Please Private Message me if you would like a free online reading, Your Reading will be posted in the Forum.
Requesting a free reading in the forum, the results will be posted in the forum, You must be a member and have at least 20 Posts