Yes I know RG, pathetic isnt it.

I also heard it had something to with a bug in a google Advertisment aswell!! So god knows what it was really..But were urged to update security..


I dont get ad's with my internet security anyway..
I hope the Ad's dont bother ohers, because i wouldnt have a clue where they are or what they are.

I never knew we had Ad's until yesterday.

Amongst all the cafuffle I found out the setting to the "My Readings" thread was also exposed to the general public.
I actually made sure it was closed to the public..
So it was a good thing actuallly in a way.. I now have rectified the problem.

Sorry Guests But "My Readings" is a Members only viewing Forum
Please login if you want to continue following it.

I think the rest is all good,.

Please let me know if its not!!!




_________________
Have I not here the best cards for the game William Shakespeare :King John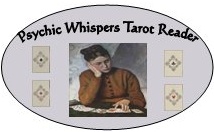 Please Private Message me if you would like a free online reading, Your Reading will be posted in the Forum.
Requesting a free reading in the forum, the results will be posted in the forum, You must be a member and have at least 20 Posts