That sounds so cool!!
And affordable if the price is for the whole trip.. and only if in US dollars and not english pounds LOL!!
$3 thousand for a room and the entire cruise just sounds not right.. plus a 16 hour session with those two.
I am expecting a catch!!
Its in September.. if i lived over your way.. I would definately be going.
Its Just getting to Rome for docking, that would be the killer for me.

Tony Stockwell is such a good medium..Just to sit and have a chat with him I would be happy with..
Thanks Ming for making us drool!!!
_________________
Have I not here the best cards for the game William Shakespeare :King John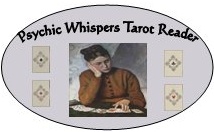 Please Private Message me if you would like a free online reading, Your Reading will be posted in the Forum.
Requesting a free reading in the forum, the results will be posted in the forum, You must be a member and have at least 20 Posts