If you havent noticed already we have a few new features in the forum..
On the right hand side..
On the top we have your Login/ Profile
and you can Log in here and once logged in you can access your profile by clicking on the link in that box..
Next is a search tool for the forum
, So if there is any topic you are looking for , search it and save load of time.
next we have latest topic
. Because i have noticed i am not always alerted to new topics or responses, and i tend to miss them.. so this box is really helpful for me.. It scrolls through all the latest topics in the last 48-74 hours.
You can also hover your cursor over it and click on the topic you want to go to.
Next we have a shout box
.. This shout box is so simple to use. you dont even have to be logged in. Just put your name in the user Name box:
In next little box Place your message..
its great to say HI!! tell us about your weather.. your day, even have a short conversation with someone else online. etc etc.. everyone including guests can see this.. so no private stuff, Unless you dont mind sharing.
Also it is a great little box for advertising your circles., SO those guests who are only hovering, dont need to log in to Know a Circle is on!!
then comes the fun stuff
..
We have an 8 ball for daily fortune telling.. Please dont take these seriously.. they are only for fun..
then we have a 3 card draw, use it as often as you like it has past present and future..
and then we have your dialy horosope.. Just a bit of fun..
I am trying to find a really Good Moon phase widget that works in here.
So i am hoping i find one soon..
Also if there is anything you would like to see , just let me know and i will see what i can do
Hope you all are having a fantastic day..
Love and light
DB

_________________
Have I not here the best cards for the game William Shakespeare :King John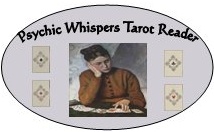 Please Private Message me if you would like a free online reading, Your Reading will be posted in the Forum.
Requesting a free reading in the forum, the results will be posted in the forum, You must be a member and have at least 20 Posts