Saturday looks good with ghost hunters international..
But what gets me is the venue!!
We have a psychic convention at a gambling place too!!
I just cant do it!!
The energy in those places are not good. How can one possibly read at them?
I know most of your convention is just guest speakers which is exiting..and i can do that!! at Gambling places.. I would even come pick you up LOL!! If i lived in your part of the world anyway..
But not the reading side of things..
Lisa Williams found a different venue here , which was a nice change!!
No electronic goods . Gambling and boozing!!

I hope you find a way to get there AM.. It would be well worth it..
In Aussie dollars that is cheap for a venue like that!!
_________________
Have I not here the best cards for the game William Shakespeare :King John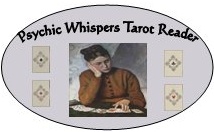 Please Private Message me if you would like a free online reading, Your Reading will be posted in the Forum.
Requesting a free reading in the forum, the results will be posted in the forum, You must be a member and have at least 20 Posts