Circles are back on..
Check out the days and times on the front of this forum

They are on Two days a week.. held by Celtic Noodle and myself..
Mondays and fridays..

Hope to see you all there!!!


_________________
Have I not here the best cards for the game William Shakespeare :King John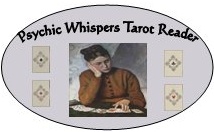 Please Private Message me if you would like a free online reading, Your Reading will be posted in the Forum.
Requesting a free reading in the forum, the results will be posted in the forum, You must be a member and have at least 20 Posts