I have lost the cards Amethyst. LOL! sorry..
I will see if i can find them again..
I have no idea what happened..
I even lost Html in homepage , which means i had to make all changes in code..
I am more a visual person, not code person. so it was a bit hard..
But it looks like forumotion has helped me out overnight and a lot of it, not all!! is back to normal.
I will go find them cards and put em back up for you!!

I am glad you posted i would have never known thats what you use otherwise..
Powerball has gone too.. But i dont think anyone used that..
Please speak up or forever hold our peace on the Powerball everyone..
Otherwise i will just allow it to float out in cyberspace never to return.
DBxx
P.s BTW how are you Amethyst?
_________________
Have I not here the best cards for the game William Shakespeare :King John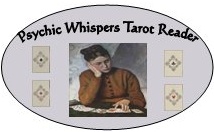 Please Private Message me if you would like a free online reading, Your Reading will be posted in the Forum.
Requesting a free reading in the forum, the results will be posted in the forum, You must be a member and have at least 20 Posts