Thats what i thought Ming

See you in there ... I am there now

You know normally way back in the early days i would be itching to tell everyone the spirit man i have been seeing.. But because it is a regular occurance these days and i am no longer freeked out by it.. I forget to tell LOL!!
Its like, dirty dishes , i always see them and dont mentions them LOL!!
same with spirit these days..
what about you!
_________________
Have I not here the best cards for the game William Shakespeare :King John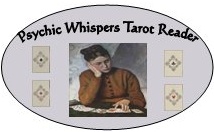 Please Private Message me if you would like a free online reading, Your Reading will be posted in the Forum.
Requesting a free reading in the forum, the results will be posted in the forum, You must be a member and have at least 20 Posts