Thinking about this question.
a few ideas were tossed around , and you know the only thing I can seem to come up with are the differences I have with people who don't have these abilities..
I will list those and maybe somewhere in amongst all of it is an answer.
I believe there is something higher than me
I believe we all are energy , All living and non living things.
I am sensitive to the needs of all Living things.
I am sensitive to the feelings of every single living things including plants.
I am able to speak heart to heart with animals, I know through their energy what they are trying to communicate.
I feel the energy at all times around me..I know what it means.
I am most at peace outside in nature.
I know what feeds my well being.
I listen to my intuition.
I listen to every single thing my body tells me when I read for someone.
every change is a message.
I trust my instincts.
I never second guess myself ever.
I truly believe what is happening right at this very moment, is meant to be, for the good of my learning.
I always see Positive in what is considered negative to most.
I always question.
I cannot even fathom a life thinking any differently.
to not believe spirit exists, to not trust my own instincts, to second guess myself.. would for me, make me feel handicapped in a major way. and it would reduce the quality of my life.
These are the differences give or take a few that I have with many people who dont have psychic abilities and see the world the opposite to me.
My children say my mum is Different, and its a good thing.

I wonder with all of who I am, if it makes any difference between being psychic medium or not?
what do you think?
_________________
Have I not here the best cards for the game William Shakespeare :King John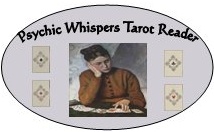 Please Private Message me if you would like a free online reading, Your Reading will be posted in the Forum.
Requesting a free reading in the forum, the results will be posted in the forum, You must be a member and have at least 20 Posts