Its a day behind for me..
Its Friday here already..and nearly Saturday. LOL!!
But I still like the report for the day.. even if is suppose to be for Thursday..
I took it for today

Balsamic Moon Phase
Today, at all costs, avoid over-reactions. Impulsivity is heightened, causing people to respond to the energy with erratic behavior. You'll see this demonstrated while people are driving and within interpersonal interactions. We also need to guard against selling ourselves short or settling for less. There is an interesting aspect to today's energy that brings second chances with things. Something may return to you - a renewed interest, proposal, or opportunity; something forgotten; or a person with whom you've lost contact. We always want to pay attention to synchronicities, but today these will take form to bring something back to us. What's showing up for you?
this is quite resonant for me..
I was stressed out by someone else's reactions , thoughts and energy.. taking it upon myself to try to fix it.. feeling the need to take control..
The moment I self-consciously let go of it all.. and lay it in the lap of the person involved.. I received a phone call in that very moment...it was of love and apologies..It blew me away that.. the very moment I let go of all those negative feelings, stress, and the need to take control , (I really did just let it all go).. it was a nice feeling it was like a lift in energy.. so for me, paying attention to those synchronicities is a big one. not over reacting and laying the issue in the lap of where it needs to go.. really does work for me..
I am not religious at all.. and I don't think you need to be to do this and I understand when people leave their problems with God for the day.. it is a release and a relief to do so..
I am truly going to do more of releasing and letting go from here on in!!
_________________
Have I not here the best cards for the game William Shakespeare :King John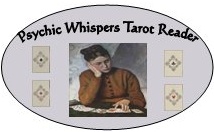 Please Private Message me if you would like a free online reading, Your Reading will be posted in the Forum.
Requesting a free reading in the forum, the results will be posted in the forum, You must be a member and have at least 20 Posts