Sorry Gals I had to leave early not only because it was late < I also had my guard down..and i had a voice in my ear that wasnt very pleasant..
Earlier that night i had been to an opening for the Wedding house.. I was invited not because i am a Civil Celebrant..(non religious minister) But because many of the ladies I have done home visits to because of spirit.. so i was invited as the psychic Medium, they wanted me to do a blessing upon the place..as they captured many many orbs on camera in pictures they took of themselve whist painting up the place getting ready for the opening.. anyway...
I felt something not quite right.. but couldnt put my finger on it, as they had said they felt good in the place and wanted to keep the spirit that were there..
I did not say that there was something i couldnt quite put my finger on.. he must have been hiding at the time..
well while i was in the circle and open combined with extremely tired.. it came to me.. I had a man say that he was goign to burn the place down with them in it.. and i had a flash back in the circle hearing him say "I am going to burn you!"
this disturbed me and i had to leave.. and then i dealt with him.. My guides showed me through my dreams that night how he was going to do it.. I now have to expell this place of this negative..
Sorry i didnt elaborate on wednesday night.. But i was tired and needed to deal with this man with all my strength i had left.. He is gone now from me anyway.. , i still have to go to the place and now cleanse it and be rid of him for good..Bugger.. I dont like these ones..
But i was invited for a reason

DB xx
_________________
Have I not here the best cards for the game William Shakespeare :King John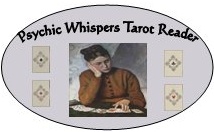 Please Private Message me if you would like a free online reading, Your Reading will be posted in the Forum.
Requesting a free reading in the forum, the results will be posted in the forum, You must be a member and have at least 20 Posts