Does your deck tell you much more than is laid out on the table?

As you all know my favourite deck is the druidcraft.. my lovely trimmed velveteen deck.. it is so soft to touch and hold.. silky smooth..
it really tells me many peoples secrets..
i find it tells me much more than is laid out on the table.. its as if it shows me layers of the clients life , laid out in front of me..
if a point is missed, it will repeat itself.. if a secret is hidden, it will show me..If a path is hidden it will reveal itself.. if a lover is on the way, they will be found..
if there is any sort of story to be told it unfolds before me..
all in 9 cards laid out in front of me..

even if by the text book the cards laid out in front of me do not tell of this story that comes into my head.
I just know what the cards are saying..each card has a thousand meanings , each set of cards have thousands of combinations meaning many different things..its as if the cards are keys to unlock hidden knowledge that only those cards know how to open.. certain combinations open certain private doors.. no other decks could possibly open and reveal. for each person the same card can speak of different paths and it reveals different futures.

the fascinating world of tarot.. I just am in love with it.



_________________
Have I not here the best cards for the game William Shakespeare :King John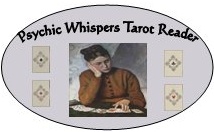 Please Private Message me if you would like a free online reading, Your Reading will be posted in the Forum.
Requesting a free reading in the forum, the results will be posted in the forum, You must be a member and have at least 20 Posts