Nice little site!

I have many flaws LOL!! I know what they are and they do serve me well..
I actually use them to my advantage at times.. where others wouldn't probably get away with it..

Like for example.. I am quiet and like to be introverted A lot of the time! Many people know this..
But I am also the opposite side of the coin when it suites me!, I can be extremely extroverted and loud LOL!!
I use the extrovert for the Tarot Parties I do..
and the introvert to escape doing things I don't want to do LOL!!
I hate crowds.. I soak up the energy wherever I go..
So I use the introvert side to avoid those areas.. Many see this as a fault.. I see it as a tool.
MY extrovert side is also loud and fun.. for some I can talk too much LOL!! For me it is a tool to overcome my introvert side when I want to perform the tarot parties and Ghost hunts..

You are never going to please everyone.. your personality flaws will annoy the crap out of others. and make others smile!!

_________________
Have I not here the best cards for the game William Shakespeare :King John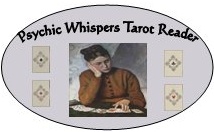 Please Private Message me if you would like a free online reading, Your Reading will be posted in the Forum.
Requesting a free reading in the forum, the results will be posted in the forum, You must be a member and have at least 20 Posts