a New Chat Box has been added to the forum it is situated at the bottom of the forum.
because of the lettering being cream it is hard to see how to "Log In"
If you follow these simple instructions it should be a breeze!!
Scroll to the very bottom of the Forum
As you look at the Chat Box you will see that it looks pretty much like the rest of the forum..
On the category bar ( which is the bar on the top of chat room, that has a leafy creamy coloured pattern)
Hover your cursor over the top of this bar and go to the very far right hand side That is where you Log in! You will come accross ,Refresh, Archives, Auto Refresh, and then Log In
Just click on "Log In"!
It will log you in automatically using your user name you are logged into the forum with!!
Automatically down the bottom of the chat rooms there will appear some icons to change the colour of your text, make it bold , italic, underline & Strike.... You will find the smilies button as well!! which are the ones we use in the forum.
To make the chat room go to a larger page!!
just above the chat room In the Statistics area that tells you whos online, etc!! It tells you how many are currently in the chatroom too!! there is a button that says "Join The chat" Click on that.
A Whole new internet page will open up! Just go into that and chat away

Do not close down the psychic Whispers Forum Page though:
otherwise you will have to start again!
Hopefully it works for everyone!!
DB
_________________
Have I not here the best cards for the game William Shakespeare :King John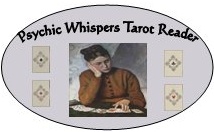 Please Private Message me if you would like a free online reading, Your Reading will be posted in the Forum.
Requesting a free reading in the forum, the results will be posted in the forum, You must be a member and have at least 20 Posts