I have some beautiful friends, and this one in particular is special to me.
she is a strong Christian and holds her faith high and lives by her faith.
She grew up in a multicultural environment and multi faiths, some of natural earth based faiths and many religious.
so her view on Mediumship and Tarot readings was a bit confused. She personally couldn't see anything wrong, but her faith did and being strong in faith, it conflicted within, and she had no idea how she could fit what i do ( Mediumship and Tarot) in with her world!

Now there is another mutual friend who is a preachers wife and one of the most awesome women i have met. Her explanation for my above mentioned friend who was struggling with it all. Said "Who do you think the Three wise men were?"
They were Gods Seers.
How they knew where Jesus would be was through their gifted abilities God gave them. Those gifts god gave them were also put there to help the people stay with God, to understand God and the Journey he has put them on, Personal and otherwise.
we are in different times, but God still has his Seers.
This Blew me away! Never thought of it that way.
She see's me as one of Gods Seers. WOW!

My Gran used the terms, Wise Men and Women. and or Seer/s. She was more Druid/ Pagan than Christian beliefs. and yet they are the same.

Another part of our conversation was about GOD.
To me the word GOD describes an all encompassing pure goodness made of a Love energy source, that we all aspire to draw from and be.
As a Christian she also believes this.

I had no idea how close we were in our beliefs.

She was also taught to read the bible by holding it in her hands and praying on a question and allow the book and pages to fall open to the answer.
Probably why this practice it is call Bibliomancy.
and I know i have done this with my druid animal or plant book.
the only difference between us is the book we use.

Our conversation spun me out quite a bit! It encompassed many aspects of my Spirituality and Christian spirituality that my friend practices. she is against what i am, and for what i am. Again the only difference between us is the Book we Use! Mind blowing weekend LOL!!


_________________
Have I not here the best cards for the game William Shakespeare :King John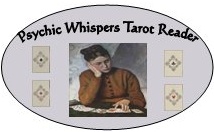 Please Private Message me if you would like a free online reading, Your Reading will be posted in the Forum.
Requesting a free reading in the forum, the results will be posted in the forum, You must be a member and have at least 20 Posts