I hate feet LOL!! Not a foot person at all!! LOL! I have always had some weird thing about feet. Not overly keen.. i see feet as rather ugly..
Now i have come across the odd person with acceptable to look upon feet! LOL!!
But not often.

I could never do this, or be a shoe sales person.
Not even keen on shoes myself either LOL!!
Dont ask why, because i have absolutely no idea whatsoever , not had any bad experiences with feet, my feet or otherwise..
Just never been keen on them, my all time pet hate is a fidgety feet.

I really really would never ever be able to even entertain this concept of foot readings LOL!!

Interesting article non the less. and it would be nice to get more info on their studies with it.. found it quite fascinating that they incorporated reflexology to their interpretations too.
_________________
Have I not here the best cards for the game William Shakespeare :King John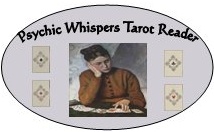 Please Private Message me if you would like a free online reading, Your Reading will be posted in the Forum.
Requesting a free reading in the forum, the results will be posted in the forum, You must be a member and have at least 20 Posts