Hmmm! as much i agree with what they say..
they really dont have a list of what people encounter with fake readers.
and they focus their attentions on psychic Readers and hoodoo..
and not a lot of detail.

I think there should be a list of names people call themselves and what you should expect from them. Individually and or collectively.

For example; a Psychic cannot offer Medium services as not all Psychics are Medium.
Sensitives have a certain role, magic has another place..
Cleansing another etc etc..
all those names offer completely difference services..
Someone uneducated might go to a psychic and want to get in touch with grandma, and because the psychic cant do that, the client might think they have been ripped off.. Because as we all know there are clients who dont say a bloody word, thinking they are all that and testing us.. But could have their interpretations of what we offer and do, completely wrong..

Maybe we could start up a list here of what names we have come across..Just remembered i was compiling a spiritual dictionary, maybe link this page to that one?


and what do you all expect on a "positive" level from psychics..
that way if someone is not getting that, then they know themselves if they are being scammed or not. Making their own decisions.
Empowering the public, is that not what we are about, empowering people with useful information so they can make their own informed decisions in their lives?
Regardless if we are tarot, Oracle, Rune readers, mediums, Psychics, Healers etc etc.. we all are about helping people make informed decisions.
Showing them the way through our mediums.

Thanks for the Link Amethyst..
as much as i admire what they are trying to do and starting.. I think they need to take that little bit further. I hope they do!





_________________
Have I not here the best cards for the game William Shakespeare :King John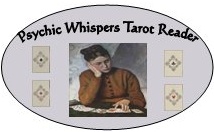 Please Private Message me if you would like a free online reading, Your Reading will be posted in the Forum.
Requesting a free reading in the forum, the results will be posted in the forum, You must be a member and have at least 20 Posts