Well my angel card reading said " A romantic Gesture will make you happy"
LOL! Of course it would!
But the question is who from LOL!!
I am going out on Saturday night with all the girls.
I dont think it would make my day if is wasnt from my husband

I will let you know what comes of my daily Angel card reading.
_________________
Have I not here the best cards for the game William Shakespeare :King John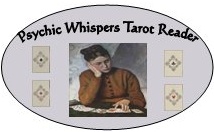 Please Private Message me if you would like a free online reading, Your Reading will be posted in the Forum.
Requesting a free reading in the forum, the results will be posted in the forum, You must be a member and have at least 20 Posts