I found this today in my poetry and prayer book.. thought i would share it with you.



"The Veil grows thin at the time of the dead.
As we honour our long gone ancestors.
In those footsteps we tread.
Life retreats into the bulbs and roots.
The time had passed fir the flowers and the fruits,
as leaves fall thick and carpet the ground.
the dark mother waits in silence profound.
Now is the time for the apple feasts.
time stands still for human and beasts.
Seek the wisdom of days gone by.
To deal with the past and let it lie.
Face your shadow and accepts your faults.
look now to the future to seek your results."


Author Unknown.
_________________
Have I not here the best cards for the game William Shakespeare :King John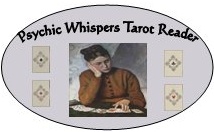 Please Private Message me if you would like a free online reading, Your Reading will be posted in the Forum.
Requesting a free reading in the forum, the results will be posted in the forum, You must be a member and have at least 20 Posts