Yes it sort of come across like that.. One of my Guides I am going to call BOB.
had an affect on me, he was a former husband. But not this lifetime, Many lifetimes before, feels like Genghis Khan era (silk road). which explained the feeling i had for him, I was uncomfortable with it. to be honest.
But the feelings have subsided now that i understand why and Logically cannot be anymore and understand the soul connection and how it all works.
I am living this life, with the husband i have and this is the experience i need to live to grow and evolve..
He told me if i resided in my past, i would not be able to move forwards, which makes complete sense to me, anyway..
So i now know he was an EX LOL!! in which he is not the only one.
which makes it easy to let go. I think this was one of my tests and I must have passed LOL!
Since doing this, I have never felt more in Love with my Living Husband than i do.. Some days i think its not possible, but it happens, I fall deeper. Bob experienced was not the main cause of this , but a chain of events and experiences, I am really believe i am here to learn to Love me , my path and all in it. The more i get it..the more i Love me, the more i am able to give love. if that makes sense.
Even though i am still attracted to the orient and a Certain Oriental look. I know where it now comes from and why..It is a past memory.. So all those extreme emotions no longer are there.
I can make a choice and live that if i want or live the one i have.. I chose to Live life to its fullest, and continue my journey of exploring me.
It is the beauty of free will.
I still have a beautiful relationship with Bob. I wouldnt call him a lover as you do about Mikail.. I just felt a deep attraction I knew had to be more to it.

This is my experience with it all anyway. Not really spoken much of it at all either.. so i probably am exposing information even those close to me dont know.
But it has been a profound part of my spiritual growth.. Learning about my sexuality as well. and my Guide Bob was part of that.



p.s Using Bob because his real name is hard to pronounce with my aussie / english acccent., He asks to call him Bob with a grin LOL!



It is sad Ishtar that you dont love life much, Life can be absolutely wonderful..As Pagan/ Wiccan you should know your connection to the earth and her beauty will keep your feet firmly planted and the Love in your Heart for all living creatures our mother has to offer..
I have been in the dark depths of despair, I think we all go there at some stage or other in our lives, it is part of our spiritual awakening, essential part of our growth... Nature and what she has to offer kept me from sinking too far down.. I could always find a butterfly, a gentle nudge by my cat, a cuddle by my pooch, or a little natter from a parrot, or an enormous majestic tree to lift my spirits and make me realise why i am here.. To embrace and enjoy that is here, nurture it, walk Gently with a light heart, and serve and protect it, for future generations. Love who i am and am becoming and evolving into.
I found out what my true passions were in my dark days..I found out what i needed to nurture my well being.. Nature was number 1 , Number 2 was something i could do and that was draw and paint.. I wasnt always good at it, but i loved it so much i taught myself to perfect my mediums. I cant live without painting now, it is part of who i am..
I think it is a continuous journey to look after our well being.. and half the fun of it is, adding more bits to your list of what you Love doing..
as Mentioned before the beauty of free will enables us to create a life we wish to lead.. At times that means walking away and letting go of certain people and attachment to things.. but it leaves the doors open to embrace what serves you well.. what makes you happy, people who make you happy, Surround yourself with objects that you like..Colour that you like,...
I have had at least 2 French Incarnations.. I Love anything old world French.. Not all the modern stuff thats out, but true authentic old Monte Marte , Bohemia style.. I even have a tattoo of a fluer de lis on the back of my neck. with lovely lace work.. It is my french connection bringing it into this lifetime. bears make me happy, whale songs lift my soul..
Like anything in life.. especially relationships and people.. they move through our lives for a reason, maybe Mikail is showing how you can and have loved before.. and can do so again. you have the capacity.. Mikail has been and gone.. and one day, may be again??? But you will never know it as Ishtar does again..ever!. you get one shot at it.. You get one shot at being Ishtar. I hope you get what i am trying to say.. Embrace the feelings you have had for Mikail, and let them go. Your time is here and Now Mikail has a different journey for now and so do you. You can still communicate and share your experiences together.. But i do get what you mean about the intense feelings you are feeling for him, I had them for Bob.

Are you Medium Ishtar or is Mikail coming through someone else channeling?





_________________
Have I not here the best cards for the game William Shakespeare :King John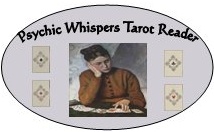 Please Private Message me if you would like a free online reading, Your Reading will be posted in the Forum.
Requesting a free reading in the forum, the results will be posted in the forum, You must be a member and have at least 20 Posts