I was watching a Ghost Adventures episode the other day and it mentioned that the Nuns in the hospital/convent they were investigating did not like men or Tattoos.
Of Course Zak gave us a beautiful view of his Tattoos , stirring up a response of a Nun In Spirit, her response is that he was " Sick" for having them.
Admittedly Zaks Tattoo does look like a demon with wings.. But it is a personal experience he got etched permanently onto his body. It must have been profound for him to do it.. each to their own I say, I am fascinated personally by what people choose to mark themselves with.. to me it is what we are choosing to expose whats on the inside, outwardly. Also a permanent reminder for the wearer.
Myself who has tattoos also ( about to get another) , dont get this way of thinking 'that its sick anyway'..
Why would certain Nuns not like tattoos?
In spirit they were quite violent towards men and people with Tattoos. Scratching them , pushing them and responding with "Its Sick"
Not religious so have no idea why Nuns would not like tattoos or even men. I know they take a vow of celibacy, but it doesn't mean they hate men, it is all about the sex not the men.
I guess i am going to have to research, Maybe its just personal choice for these particular Nuns??
anyone seen this episode its is in Season 7 ep 16 They seem to be reflecting and recapping on old episodes, probably taking a much needed break. It is very tiring and exhausting mentally and physically doing investigations.. and I can only imagine what these fellas go through.. its Crazy!
https://www.youtube.com/watch?v=o2LAlm70WH0
_________________
Have I not here the best cards for the game William Shakespeare :King John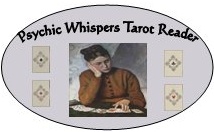 Please Private Message me if you would like a free online reading, Your Reading will be posted in the Forum.
Requesting a free reading in the forum, the results will be posted in the forum, You must be a member and have at least 20 Posts