Now i have the Internet back on and lost 2 days of Posting. I thought I would post up two cards.
I am starting with the Oracles, Both Plant and Animals
28th January 2013. Cards for the past 2 days.
Funny the Raven came out of the animal pack, I have seen and been taking notice of the Crows caw these past few days. And saw a pair of Butcher Birds, I normally only see one at a time.
It is rare to hear them where i am, But some how they have been getting through. and Now i choose Raven. Very appropriate.
The Plant deck I chose Comfrey
`Without looking at the Book yet. I am drawn to the tiny spot of water on the Ravens wing. and the path going up the mountain.
I know this cards is going to have a magical meaning with it.
In the Comfrey card I am drawn to the stream in the picture and the pile of bones. and the fact the flowers are drooping. and the colour Purple. There are also some hidden bones.. Does this mean skeletons in the closet?
From the Book:
Now due to copyright infringements I wont be copying word for word, Maybe a quote here and there which comes under the fair use clause.
But the rest will be my own interpretation of what it means to me.
RAVEN:
This Bird is perched upon a beech tree, It is
winter
. The Mount across the way is White Mount. It is where
Bran the Blessed
(Pronounced Bruhn) , His head is buried there. It is where the future Tower of London will be built.
Bran means Raven.
Raven means inititiation, Healing and Protection. it is the gift of prophecy.
This initiation may be in the form of a initiation ceremony or on the physical level a new job/profession or a promotion.
It is like snake, the shedding of the old and the coming of the new.
The Magic of Raven can also bring a deep spiritual healing. giving the person the possibility to resolve conflicts of long past, or deep within the soul.
*********************
My thoughts on the book meaning:
This Bird showing up is quite significant with all its meanings. as I mentioned in another post about Not sensing much lately. I have had spirit come to me in dreams. An X mother in Law visited the other night. she helped me resolve issues that i had hung onto from the past. She has helped me move forwards. Healing old wounds. And again The Tarot Mediumship I do, has taken a whole new turn and i am being in demand to go to peoples homes.
On a very deep level things are certainly shifting and changing. Spiritually I am healing the soul and becoming more and more enlightened. I just wish i could not become angry when i see injustice. Our journey of the soul is always at the beginning of a new adventure.
I most certainly am.
***************************
COMFREY: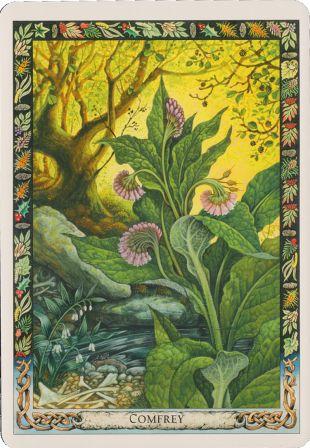 It seems to be autumn in this card.The alder trees is starting to lose its leaves. The Comfrey is growing beside a stream, It likes moist wet earth.
This image also has some Solomons seal in it too ("which after a bit of research I have discovered it also is a healing plant, that can be made into a tincture"). It is leaning towards the water.. the Bones i see are hares bones.
This card denotes Structure, Ancestral Foundations and Fusion.
This Plant heals skin and also deeply penetrates to heal aches in the bones. also helps fuse broken bones.
This cards meaning suggests i may need to call upon my ancestors, research them even. I wondered whether the bones in the cave meant skeletons in the closet.. Yes they do..Taking them out and healing old wounds. This card can also mean the joining together of two ideas, people or even organisations.
***********************
My thoughts on the book meaning:
It looks like a soft non prickly thistle we get here in Australia. I have never seen Comfrey here in the wild or otherwise. But googling the plant it it quite pretty and a serene little plant. dainty almost. Which is probably why I came up for me. I am Looking for a more Serene existence. I also love the image on this card a place i most definitely would find my place of Awe.
I do physically need healing, I have sprained a muscle in my shoulder blade and it has given me grief for a few days now. Shame we dont have this plant here in Australia.. I would definitely be using it right now.
After researching, our Native Australian Wattle also does the same job. But again i am in a pickle. I live in tropics. we dont have Wattle.
I found one thing i do grow and my youngest daughter pointed it out the other day, I have an abundance growing in my garden.. It is Ginger!!
Ginger combines well with turmeric, which is also anti-inflammatory and pain-relieving. SO if i combine these two spices/herbs and make a tincture it could help relieve my muscle soreness. Maybe that's where this card Comfrey was leading me to.. Look for a way to heal myself.
I am also seriously going to start researching my Great grandmothers 4 generations removed line, They are French. There is also a French Connection in these two cards too!! Bran the Blessed was said to ask his head to face towards France as a lucky omen to frighten off any more invasions from the French.
So both of these cards coming out together are quite appropriate for me to pull today..
But also this card Comfrey touches the subject of letting go and healing past, as did the crow card.
I guess that is what i am doing right now too.
These are such interesting cards, I have only done a couple of readings with them.So therefore do not know them well at all.. so they are perfect for this exercise i have decided to embark upon. I want to add Runes with them Ogam and or Elder Futhark too Depends on what matches up better.. I do think Ogam would be perfect..I dont think it would matter is some cards have the same rune assigned to them though. we will see as i go along.
This is the Rune for Beech tree,
Phagos
This would be assigned to Raven.
Comfrey has an Alder in its card. so i would go with .
Fearn.
which is quite apt for this card. As the Image looks like it would be in the land of the Fae.
I am liking matching up these cards with the Ogam runes.. I wonder whether i can also Elder futhark.. that would be interesting