Hey Bigcaat I have looked into the larger chatrooms that shows everyones faces , Like Multiple skype room etc..
But it costs money I cant afford at the moment.
I found Parachat the best chat room for what we needed , It does have audio..( I could afford that

)
If I ever upgrade to Skype type chatroom.. I will be sure to let you know..
and Yes our Circles are for personal development with mediumship / Psychic awareness..
I am sorry you are having problems with Java. :-(
It would have been nice to see you attend a circle.
they really are fun and help such a lot.
_________________
Have I not here the best cards for the game William Shakespeare :King John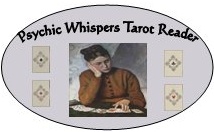 Please Private Message me if you would like a free online reading, Your Reading will be posted in the Forum.
Requesting a free reading in the forum, the results will be posted in the forum, You must be a member and have at least 20 Posts