WOW!! Thankyou so much for sharing that link!!

it is amazing to see what happens to our brain waves when we tune into spirit.
I have always thought it was a genetic DNA sequence that has been passed on from ancestors..
So it was interesting to see that one of the questions that has been asked is, Do some of your family members also possess the ability to speak to spirit.

Anxiety was another one,, Yep yep yep!! Anxiety is my middle name LOL!

I am so glad that Dr Oz took this experiment on and had scientific equipment that was able to show that something does happen..
Interesting to see it to be the right side of the brain..it puts a bit of weight into the concepts of right and left brained ways of thinking.
Left being logical, structural, Right being intuitive,

and also that in a state of just being, without spirit around that the brain was quite active, Over active in a way.

Thanks again!!

_________________
Have I not here the best cards for the game William Shakespeare :King John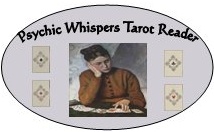 Please Private Message me if you would like a free online reading, Your Reading will be posted in the Forum.
Requesting a free reading in the forum, the results will be posted in the forum, You must be a member and have at least 20 Posts