I am so fed up with Spammers..
What you put up in your Links we are not and never will be interested, so please do not waste ours and your time posting in this forum..
All that time it took you to become a member.. it takes me 2 seconds to ban you, Your email and IP...

I hate playing the game of delete the Spammer..But if you insist on posting crap in this forum.. I have no choice.

Another one deleted today..


_________________
Have I not here the best cards for the game William Shakespeare :King John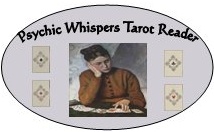 Please Private Message me if you would like a free online reading, Your Reading will be posted in the Forum.
Requesting a free reading in the forum, the results will be posted in the forum, You must be a member and have at least 20 Posts