I'm still hovering around the forum too.. Dont always post up.. Only because once i start writing I end up writing a tomb LOL!!
And i havent always got time for that LOL!!
Always running running running.. with work, family and other stuff.. Life certainly carrys us all off at times..
Glad to see you back

Was missing you..
I did start reading that book you sent via Kindle.. then time ran out..
I will yak about it in the thread Movies and books.

I am reading Dan Brown Book Inferno at the Moment and it has stirred Lots and Lots of questions especially in regards of reincarnation..
He really does like to stir the pot.. LOL!!
But he has a valid point in this book, not that is what he is aiming for at all, but due to my own beliefs it has got me thinking A LOT!! LOL!
Dont know whether thats a good or bad thing LOL!


I am also learning how to speak French.. Its been about 2 months now and i feel i am getting there.. definitely not fluent just yet..
be another 6 months for that i reckon ( maybe more LOL!).. But i am so enjoying it... Loving listening to the music and watching the news too, just to tune my ears in.. Fun Fun Fun..
I will catch up with you in the forum..
Welcome Back
_________________
Have I not here the best cards for the game William Shakespeare :King John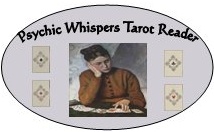 Please Private Message me if you would like a free online reading, Your Reading will be posted in the Forum.
Requesting a free reading in the forum, the results will be posted in the forum, You must be a member and have at least 20 Posts