Got this from Travel channel website..

[via press release from Travel Channel]
TRAVEL CHANNEL'S "GHOST ADVENTURES" RETURNS FOR AN UNFORGETTABLE EIGHTH SEASON PREMIERING FRIDAY, AUGUST 16 AT 9:00 P.M. ET/PT

Season Eight To Feature Milestone 100th Episode And A One-Hour Special Showcasing Series' 100 Most Memorable Moments


Read more at http://www.thefutoncritic.com/news/2013/07/11/travel-channels-ghost-adventures-returns-for-an-unforgettable-eighth-season-premiering-friday-august-16-at-900-pm-et-pt-90002/20130711travel01/#xZKPkbwcfLATESm6.99


I cant wait for this to start, I have been following these guys on Facebook.. and They have been to the French catacombs.
Which is a dream of mine to do.. Which I will most definitely do one day..
Cant wait to see what they got.
_________________
Have I not here the best cards for the game William Shakespeare :King John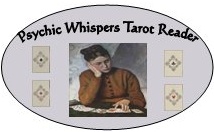 Please Private Message me if you would like a free online reading, Your Reading will be posted in the Forum.
Requesting a free reading in the forum, the results will be posted in the forum, You must be a member and have at least 20 Posts