Hi Jackie
I noticed you have only made one post.. and you have used it to advertise your own forum..
Majority of us in this forum have forums or websites of our own,. and a Major Community we frequent. We all are Tarot readers and healers of some description...
We hope you have joined up in this forum to join us in our regular psychic circles that are held twice a week soon to be 3-4 times a week.. the reason for this forum

Please go to Advertisement Board in Psychic Whispers for times or my website
www.dancignebaronline.com
Dancing Bear

_________________
Have I not here the best cards for the game William Shakespeare :King John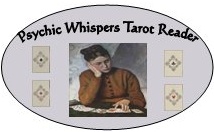 Please Private Message me if you would like a free online reading, Your Reading will be posted in the Forum.
Requesting a free reading in the forum, the results will be posted in the forum, You must be a member and have at least 20 Posts