Hi Missy
Glad to see you made it..

Cant wait to start hearing about how your journey is going.. and little stories you have to share..
or even questions you may have.
Have you checked out the psychic excercises we have going at the moment...
I will paste up some not so morbid excercises soon..
DB xxx

_________________
Have I not here the best cards for the game William Shakespeare :King John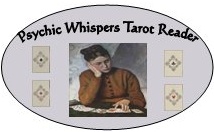 Please Private Message me if you would like a free online reading, Your Reading will be posted in the Forum.
Requesting a free reading in the forum, the results will be posted in the forum, You must be a member and have at least 20 Posts