I have just come from my last ever Tarot Party YAY!!! , Yet again i am blown away not only by the cards but how spirit are reveiling themselves for me..
I cannot believe it..
they just walk in front of me and prance around the person they belong to..
I mainly see them over the left shoulder of the person..sometimes just above their head..
No matter how i am seeing them . I am still blown away that i am not just seeing things. I describe these people around them and they just cannot believe i am seeing them.. I cant believe either LOL!!
its funny you know when i see them i dont even think, i just blurt it out..its only after i blurt it out i think oh my god I hope that bit of info was bloody right otherwise i am gonna look like a right prat.. LOL!!
I am still bloody gobsmacked with the accuracy that is coming..the clarity of information and that i am actually seeing people that belong to the person in front of me..
now why cant i get this clarity with the online circle thingy?
maybe its because i dont have direct connection with the energy from you guys maybe.. and that is why it can be hit and miss.. But as John edward says it is all about the connection to energy and energy has no time nor boundries so it shouldnt make an over of abundance of difference ,, but it does to me somehow..
i really wanna work on this ..
I may have to ask guides what excercise can we do to be able to tune into each others energy.. something simple and yet accurate and direct ..
and then after we have done that ask what excercise we can use to tune into passed over loved ones that are connected to that energy also..
I think i have my work cut out for me ..LOL!!
Todays readings were extremely heavy, loads of heavy childhood issues that these poor women are dealing with.. I feel so lucky in life I really do..
being a reader can put life into perspective a bit sometimes..

anyone any ideas how to deveolp our online connection?
_________________
Have I not here the best cards for the game William Shakespeare :King John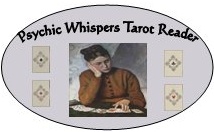 Please Private Message me if you would like a free online reading, Your Reading will be posted in the Forum.
Requesting a free reading in the forum, the results will be posted in the forum, You must be a member and have at least 20 Posts