Yucky!! I would have panicked LOL!!
Get it out Get it out!!
Little bugger!! Glad he wasnt harmed though and only just flushed out! Unless they squooshed him after!!
Here i am worrying about a spiders well being LOL!!
Typical me!

_________________
Have I not here the best cards for the game William Shakespeare :King John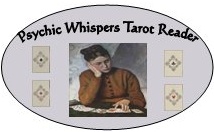 Please Private Message me if you would like a free online reading, Your Reading will be posted in the Forum.
Requesting a free reading in the forum, the results will be posted in the forum, You must be a member and have at least 20 Posts