As most of you know I am a Painter.
I have Painted most of my life, and have made some awesome tools for use with the Paranormal and reading..
Especially Portable Ouija cloth boards and Ouija Tables.
And hand Made Rune sets.. Both Ogham and Elder Futhark..
and bead embroidered Tarot bags.
I am now going to venture into making Tea cups for tea leaf readings.
But my tea cups are going to be a tad different..
They will be decorated..
Here are a few images of what i already have made and I do make them to order.
Obviously the Tables wont be able to be sent overseas..as the postage would be enormous.. but the cloth Ouija boards are easily sent.
and I am thinking the Tea cup sets will also be easily sent.
Just need to make up an entire set and find out how much it will cost.. So i can add to the price so then its all inclusive.
What do you think on the idea? I dont know how it will go but i am going to start activating my Website again.. otherwise its a waste of my money every year to keep it going.. I have had it going for 7 years now and had many ideas on how it could pay for itself.
and because i dont have much time on my hands it is hard to keep it up to date with blogs etc..
Here are a few examples of what i do already.. and someone else example of a tea cup.. Of course I would never copy a design, so the image is only an example.. My own will be probably totally different..LOL!! When its finished i will post up the image :-)
My Ouija Coffee Table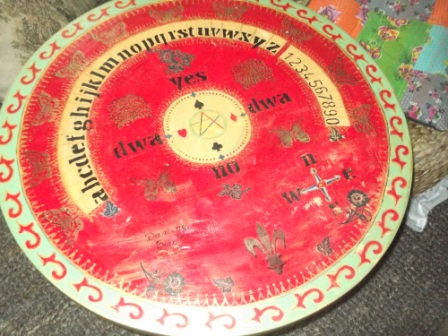 Ogham runes
Cloth Ouija Board for Pendulums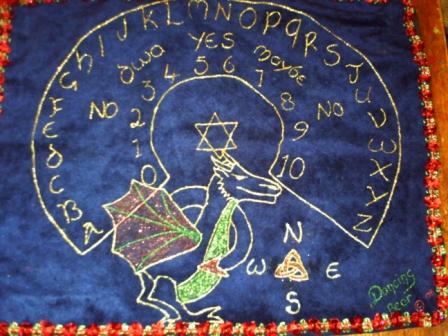 And here is an example of someone else's Tea cup, which is all over the net and assuming its public domain.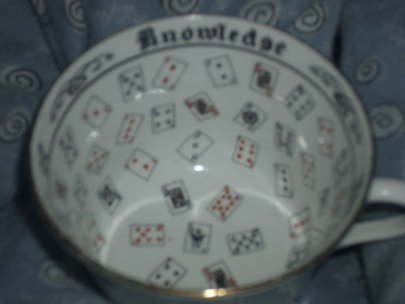 I like the old fashioned T cups with the lovely Flower patterns on them and gold rim.. SO i will be going to the second hand shops to find some.. and I have porcelain paint. Just need to sit and design it.. I am thinking of each individual one is going to be different rather than mass the same..
Like I do with my ouija Table and cloths.
_________________
Have I not here the best cards for the game William Shakespeare :King John
Please Private Message me if you would like a free online reading, Your Reading will be posted in the Forum.
Requesting a free reading in the forum, the results will be posted in the forum, You must be a member and have at least 20 Posts