Well this weekend is me celebrating my birthday which was through the week. But alas had to work..
But that was ok because today and tomorrow there is a Gem and mineral show on here in Cairns.
Every year i take myself along and pick up some bargains.
Last Year I got a set of honey Agate Runes and a Enormous piece of Amethyst.
Well this year i was looking for some spiritual tools and some jewellery. Mainly in the form of Smokey Quartz.
Well it pays to go around the stalls more than once.
the first stall i went to I picked up a lovely rose Quartz Pendulum.
It had 2 runes carved on it.. Dagaz and Algiz.. Breakthrough and Protection.  Well upon going back to this stall for the third time and completely overlooked a beautiful Smokey Quartz wand..I finally found my piece of smokey Quartz..
I knew i had to get a piece 2 weeks ago.. I even got a couple of tumbled bits to tide me over until i found the right piece.
Well today was the day :-)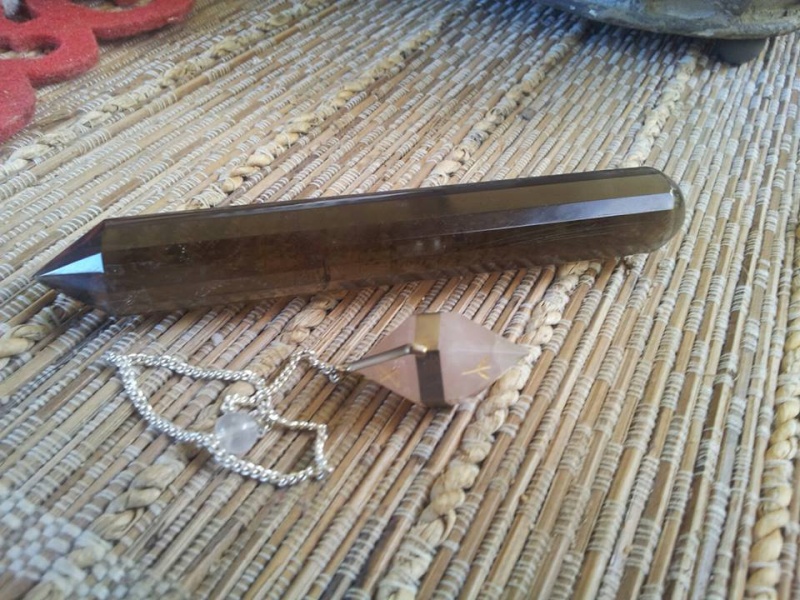 I also got a couple of pieces of jewellery and ordered a ring.
I got some nice Onyx, I Love Love Love Onyx and wear it always.. I bought another bracelet and more earrings LOL! and Smokey quartz earrings. and some rutilated smokey quartz earrings.. and Ordered a Smokey Quartz ring..
All of this stuff was so dead cheap.. for good quality stuff.
This is why I love going straight to the supplier.
Cant wait for next year now :-)
Here is the meaning for
Smokey Quartz
Here is the Meaning for Onyx
Onyx is known to be used as protection against black magic, as well as defensive magic when negativity is directed toward you.
Onyx will also help you gain emotional balance and self-control, when added to the benefit that it also balances the male and female polarities within each person, this is quite a powerful stone to have in your divination rituals, whether for protection or otherwise.
Birthstone for the Month of December, and birthstone of most ancient cultures for the month of July.
It assists with challenges in life, especially those caused by a drain of energy. It prevents the draining away of personal energy and can be used for protection from such. It also helps with grounding and controlling or eliminating excess or unwanted energies
_________________
Have I not here the best cards for the game William Shakespeare :King John
Please Private Message me if you would like a free online reading, Your Reading will be posted in the Forum.
Requesting a free reading in the forum, the results will be posted in the forum, You must be a member and have at least 20 Posts