Thanks CN.. That was a bonus I discovered how to do that LOL!!
I am not use to this Forum motion set up.. so its a whole new ball game for me,..
I am use to Proboards which is so much easier really LOL!!
But Its too late to change it all.. I did start but realised it would be too bigger job to transfer it all over. LOL!
Heres teh proboards version.. Unfinished though.
http://www.psychicwhispers.proboards.com/
So here wishing me luck ,, I have found a picture which is copyright free, of one of the oldest chalices ever found.. i may use that instead fo thsoe funny icons to the left of the screen.
I am also going to put Psychic Whispers onto the banner itself.. and get rid of the writing underneath..
and a few other bits and pieces..
Just have to adjust the graphics to suit and fit the forum..
_________________
Have I not here the best cards for the game William Shakespeare :King John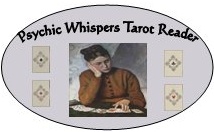 Please Private Message me if you would like a free online reading, Your Reading will be posted in the Forum.
Requesting a free reading in the forum, the results will be posted in the forum, You must be a member and have at least 20 Posts