Obviously they are not the type of witch that people back in those days thought they were..
They are made out to be evil souls..
I have seen some programs that makes one of these women into an unintelligent man hating people..

on my website i have the Malleous Manificarum ( the witches hammer) and it is aweful to think that the human races intelligence levels were stooped so low and unempathetic , and so frightened of difference.. and its the same these days.. the malleous manificarum changed 13 times mind you.. One of those times was to add if you accused a person of being a witch and they were to be found guilty, you under law inherit the said witches estate..
needless to say , the focus came off of the poor and onto the more well to do..
In Germany whole villiages were burnt in the belief the witch had bewitched all inhabitants.. or an entire villiage were all witches in disguise..
Dont ask!! I dont get it either!! But the thing that is scary, they did back then..
I know we have changed a little, but have we?

What do you think ?




_________________
Have I not here the best cards for the game William Shakespeare :King John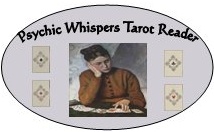 Please Private Message me if you would like a free online reading, Your Reading will be posted in the Forum.
Requesting a free reading in the forum, the results will be posted in the forum, You must be a member and have at least 20 Posts