Hi Zombi
The only advice i can give you to develope on your own would be
1. A bit of Meditation.. Try a Medium you like.. I find John Edward and Gordon Smith Cd sets good.
2. For me.. I found watching those mediums who had already made it really helpful..
They are all different. But each and every one of them have good tools that you can try out yourself..
another thing also you can try tune into the same thing they are at the same time and see what you get..
Dont to it to the Likes of Most Haunted LOL!! they got really not nice stuff..
But Lisa Williams has a DVD out, when she does her one to one interviews.. that is a good time..
One tip I picked up from her.. is the Hat when she finished. It made a real difference once I had finished a Tarot Party.
Circles are a great for develpment.. try find a circle that you can make.. I am sorry ours dont suit your lifestyle.. You never know one day we will change it all, and you will be able to attend.. any time you have off on holidays or the like Please pop in.
One website is called
www.mediumystics.com
I think thats it anyway.. they have absolutely heaps of circles going all the time.. they may have one going in the time slot you need.. They are no fluff stuff.. just to sit and watch is a good thing to start, just to get your bearings and also to get to know those who attend the circles.. You dont want to attend a circle where the people are a bit dark, or a bit too unreal.. You will know! I havent come accross in Mediumystics.. well the ones i have actually attended anyway.
Good Luck
DB xxx
_________________
Have I not here the best cards for the game William Shakespeare :King John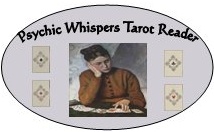 Please Private Message me if you would like a free online reading, Your Reading will be posted in the Forum.
Requesting a free reading in the forum, the results will be posted in the forum, You must be a member and have at least 20 Posts