Hi everyone.. I have been a bit quiet lately with various reasons. Once i got up, something else knocked me down.. But hey i am back up and still standing.. So its all looking good for todays circle..
Celtic Noodles Pictures have been a hit.. and Thanks to CN for all her support and help while i have been off sick.

Ming Congratulations on your sons wedding.. and those pictures look awesome. pssst! and so do you


I am hoping to try a new excercise tonight. I would like to use names. like the flower excercise , but using a name of a person deceased or alive.. it doesnt matter.. Both Psychic and Medium excercises are good for the ole noggin.
I also have a couple of objects I would like to tune into if we have any time.. its no biggy if we dont.. I thought i would try to introduce this kinda of excercise and broaden our horizons.
see you all there
Donna xx
_________________
Have I not here the best cards for the game William Shakespeare :King John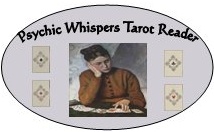 Please Private Message me if you would like a free online reading, Your Reading will be posted in the Forum.
Requesting a free reading in the forum, the results will be posted in the forum, You must be a member and have at least 20 Posts